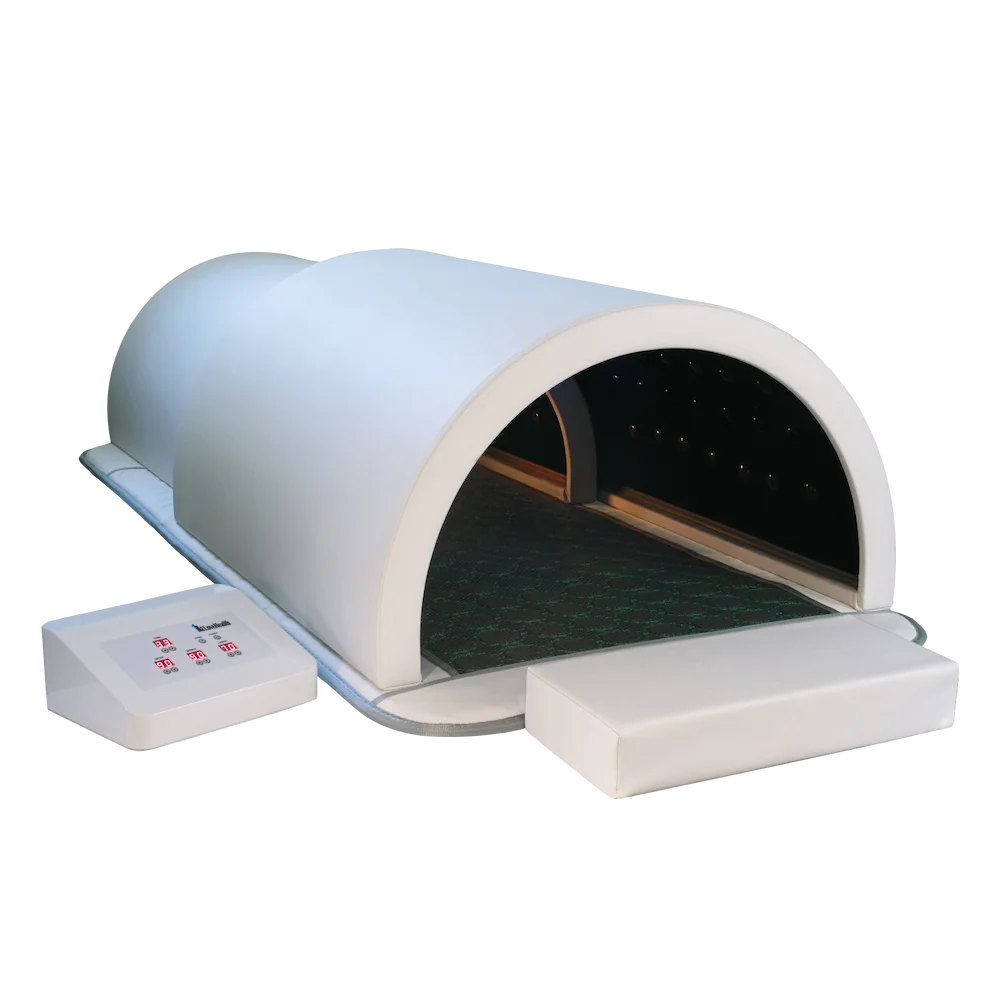 Live Longer
Studies have shown up to a 70% decrease in cardiovascular disease risk.
Detox
Embrace blood flow, rid the body of harsh chemicals and toxins.
Immunity
Increase immune system function. Embrace year-round health.
Brain Function
Stimulate mental clarity and endorphin release.
Skin Health
Increase collagen production, decrease bacteria, get healthy skin.
Burn Calories
Burn extra calories while laying down.
Fight Disease
Slow rates of degenerative disease such as Alzeheimers.
Increased Circulation
Experience enhanced full body circulation.
Reduce Inflammation
Lower total body inflammation.
Relieve Pain
Attack muscle and joint pain at its source.
Cutting-Edge Sauna
Our flagship Far Infrared Sauna. With Near-Zero EMF, and High Temperature Zonal Control, what's not to love?
Our Grandest Sauna Dome! The XL Is Bigger! Made For Larger Lovely Humans, And People Who Need To Wiggle. The Luxor XL has more stones, and an upgraded pillow.

With Near-Zero EMF, and High Temperature Zonal Control, what's not to love?
Tranquil White, Two Varieties of Stones

Sleek Black, Four Varieties of Stones

77-194°F Intensity

0.148mG Average EMF

Uses Standard 110V Outlet

5-15 Minute Preheat Time

Three Zone Temperature Control
Far Infrared Tuned to Your Body
Far infrared tuned to 4-15μM to resonate with your body's natural frequency.
Optimal Positioning
Improves Circulation
Increases Relaxation
Reduces Body Tension
Laying down allows you body to release the demands of gravity. This in turn allows optimal blood circulation and benefits from using a sauna. Additionally, you can truly relax, unlike in a cabin-style sauna.
Non-Toxic
Built with all non-toxic materials to ensure a safe environment.
Vegan Leather
Vegan leather for sustainability.
Environmentally Friendly
Designed with longevity of our world in mind.
Built to Last a Lifetime
Quality, long-lasting materials for daily sauna use.
Save Valuable Space
Space Space Commitment
Fits in a Corner
Mat Fits Directly Inside of The Domes
Our sauna domes conviently store anywhere in your house, ensuring everyone can have a home sauna.
3 Zone Control
Control Each Portion Separately
Choose The Temperature Range For YOU
1200W Powerful Control Box
Less Than $5/Month
1-60 Minute Timer
Our pro control box allows you to have full control of your sauna environment. Set each section's temperature individually to provide you with the most comfort possible.
Therapeutic Stones
Enhance Far Infrared Output

Experience Eastern Medicine Healing

Releases Negative Ions For Detox

Increase Sauna Intensity
When heated, therapeutic stones release far infrared, amplifying the overall intensity of far infrared output in the sauna dome. These stones have also been used in eastern medicine for centuries as a form of healing and detoxification.
Sauna Sizing Guide
Measure The Circumference of The Largest Part of Your Body
(Be Sure to Include Your Arms)
If greater than 58" and smaller than 77", choose the XL model.
If smaller than 58", choose the standard model.
Both standard and XL models are the same length.
It is important to get the sauna that would best fit you. Proper sauna sizing allows for optimal infrared absorption and the most minimal preheat time.
Power

110V USA Type B Plug

Powerful 1200W Protected Control Box

Timer: 5-60 minutes (beep when complete)

3 Separately Controlled Far Infrared Zones

Far Infrared

ZERO EMF Carbon Fiber Far Infrared

Tuned to 4-15μm to precisely resonate with your body

Note: Far Infrared ONLY (no near infrared)

Temperature

Dome: 77-194°F / 25-90°C

Mat: 77-158°F / 25-70°C

Note: Far Infrared is slow to heat air. The air inside your sauna will not reach these temperatures, but you will feel the full intensity.

Sauna Safety

Average EMF = 0.15 mG

Certifications: SGS, RoHS Chemical, CE (EMC, LVD), IEM, Far Infrared Ray, Negative ION
What's Included
Infrared saunas, especially a portable infrared sauna dome is more effective at heating the body than traditional saunas. Traditional saunas heat the air around you in order to heat the body from the surface. Far infrared rays pentrate deep below the skins surface, in order to heat the body from within.
By the nature of portable far infared sauna's method of heating, you don't need nearly as much heat in order to achieve the same benefits. Many people feel uncomfortable or claustrophic when experience the high direct heat of traditional dry saunas. This is heavily mitigated when using far infrared saunas.
A sauna dome is much more convient than a traditional cabin-style sauna. The have less space commitment, are require less electricity. A Portable infrared sauna dome can be connected simply off of a standard 110V outlet. A 1Love sauna dome also easily stores away while not in use, this allows for you to have a sauna experience truly whereever you choose.
When using a sauna dome, it is extremely important to be confident in the true EMF levels. EMF can wreak havoc on the body, contributing to many harmful health effects when at high levels. Many infrared sauna companies claim they have third party testing that is trust. While this is often true, they also tend to remove or modify their heating elements, prior to sending them to the companies. This gives them a 'trust' but false reading of EMF.
1Love far infrared sauna domes specifically are tested in the fully assembled position, and completely unmodified. There are also tested with three different EMF readers to ensure an accurate measurement.
Overall Avg EMF: 0.148mG
An Infrared sauna is generally much less hot than a traditional sauna. Since a traditional sauna has to heat the air around your body, they must be substantially hotter. Since an infrared sauna directly heat the body, it doesn't take nearly as much heat to produce the same benefits. Generally, you can experience benefits of infrared heat starting at around 120-150 degrees Fahrenheit for most people.
A 1love far infrared sauna dome has a maximum temperature of 194 degrees Fahrenheit. This is to ensure even the most experience saunas users can still get the experience of their choosing. This is important because with frequent heat exposure the body can slowly become heat adapted, so you would want an infrared sauna that is fully adjustable to your needs.
1Love sauna domes use carbon heating elements for many reasons. Carbon heating elements generally heat up quicker than ceramic heating elements. Additonally, carbon heating elements are easier to shield from EMF, this is what allows for us to offer the lowest EMF portable sauna on the market.
A far infrared sauna can truly be transformative in your journey to better health. Some people refer to theses as a curve sauna dome, essentially they are portable saunas that can be placed anywhere of your choosing, allowing you to leverage far infrared sauna benefits daily.
The health benefits of a infrared sauna therapy include: Improved immune system function, decreased joint pain, decreased joint stiffness, improved blood flow, improved brain function, improved hormone secretion, improved blood pressure and many more.
Infrared technology is an amazing method of heating the body. This extreme heat allows for your core temperature to rise. The elevation of core temperature is generally where the health benefits arise.
Far infrared wavelengths are long and penetrate deep below the skins surface into the muscles, joints and organs of the body. This creates an up-regulation your bodies natural functions. This is partially why sauna bathing can help decrease risk of cardiovascular disease, because it's a form of exercise on the heart and cardiovascular system.
Sauna bathing in general is a great method of detoxing the body. Infrared saunas are particularly good at this due to their method of deeply heating the body. Many people assume that the detox comes from the sweat, but in reality most comes from all methods that the body excretes toxins, even through urine.
Far infrared technology heats the body deeply which improves blood flow and function of organs. If you are someone who has high levels of heavy metals, or even high levels of pesticides, you can heavily benefit from detoxing with a sauna.
Important Note: If you are someone that truly needs a lot of detoxification, you may benefit from some sort of binder such as enterosgel. This helps the body further release these toxins, especially if you're currently gut health or overall organ heatlth is sub-optimal.
Portable infrared saunas oftentimes are made with materials that can release harmful VOCs into your household and leave it smelling poorly. 1Love 1 person infrared saunas are made with all non-toxic materials to ensure minimum VOC release. It is important to note that with any new product, the first time heat up maybe have a slight smell to it, but this will remedy after simply a day or two.
The packages being shipped are rather large, with the single person infrared sauna dome, the package weight for the standard size is 69lbs. The package weight for the XL side is about 92lbs. This is primarily due to the packing so ensure your personal sauna gets to you safely.
In regards to moving the two lightweight domes, they range from 15-20lbs each, this is generally not an issue for most people
Free shipping always
A 1love portable infrared sauna emcompasses everything good that the best portable saunas have to offer, but better. We always publish our EMF readings to ensure they are the safest on the market. Many companies will send thier portable sauna to a third party, but they will remove the heating elements prior, to get a better reading. We test portable infared sauna fully assembled and in normal use.
Most portable saunas also emit high VOCs which can be dangerous. We use high quality, non-toxic material have no harmful chemical release.
We also offer the hottest far infrared sauna on the market. Our saunas reach a maximum temperature of 194 degrees Fahrenheit. Many portable saunas can only reach temperatures below 150 degrees Fahrenheit.
Additionally, our control boxes have zone control so that you can set the temperature range to your exact liking for each section of the sauna dome.
Optimal sauna dome use time is dependent on the frequency of sauna use. It is recommended to get at least 58 minutes of sauna sessions per week. This means you could break down your far infrared sauna dome use into one day, with careful hydration, or separate it into a few sessions throughout the week. The goal should be to keep each sauna session at a minimum of 20 minutes long. This allows the body to heat up enough to leverage all of the health benefits that infrared saunas have to offer.
1Love sauna domes use high quality, PU non-toxic leather in order to help mitigate any VOCs. Many portable saunas have issues with emitting bad smells and VOCs. This is why we choose non-toxic materials. It is important to note oftentimes there may be a slight smell from the new material heating up, but this goes away after a day or two.